How to scan a QR code in 2021
All smartphones can interact with QR codes, but you should stay up-to-date with which phones interact with them out-the-box. Thyngs will do this for you.
Know your smartphones for better engagement in 2021
If you have an iPhone with iOS11 or an Android 9 and newer, you can scan QR codes without needing an app. This is useful for you to remember, so make a note. 
Open the native camera 

Focus the camera on the QR (but don't take a photo) 

Click the pop-up to be taken straight to the experience
It's good practice to describe the 3-step process in simple terms. You can use an infographic like below alongside your QR codes.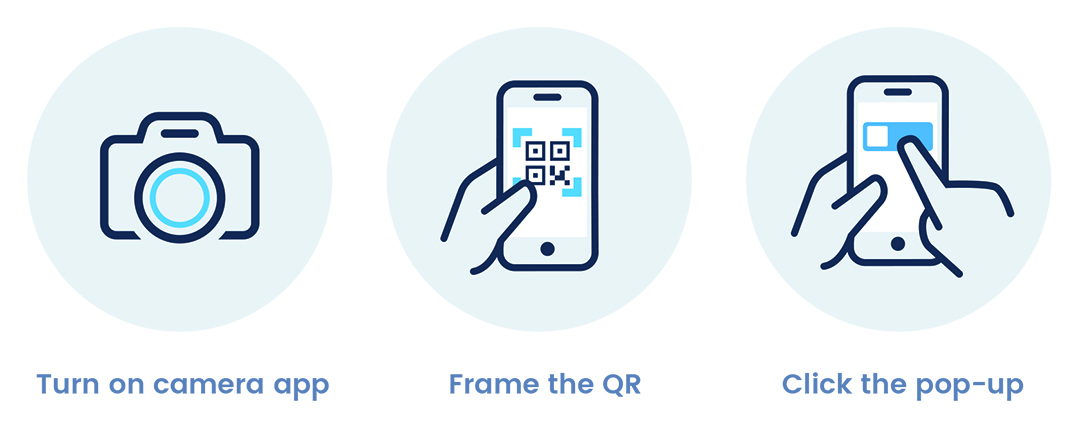 For older Android and iPhone handsets, free apps like 'QR Code Reader by Scan' are easy to use and self explanatory.  
If you like, remember the general rule for QR codes: If the camera doesn't scan the QR code then you need a free QR code app. 
What about NFC?
NFC can detect and enable technology in close proximity without needing an internet connection – or be activated by the user. This is the tech that powers contactless payments.
Because NFC is becoming more familiar to people and also built into all smartphones, this is the technology that will drive touch-free mobile services. 
 QR is a visual proximity tech. This means that you need an image of a certain size on your physical object in order for someone to interact with it. NFC works from a small chip, which can be hidden from view. This means that smaller objects such as pin badges can also be enabled. 
Go to "How to engage with NFC touch-points in 2021" for more.
Get by with a little help from your cashless friends
Get in touch for a demo of Thyngs or to discuss how to prepare for 2021.