Brains, sprains, and automobiles
Ever wondered what a university innovation event, charity mud challenge, football club and Aston Martin cars have in common? Read on to find out.
It has been a very busy few months here at Thyngs, with our solutions being used to bring so many diverse events around the country to life. Here's a quick round-up of what we've been up to.
We joined the team from Barclays Eagle Labs for an Innovation Showcase at the UEA's Enterprise Centre meeting lots of forward-thinking business owners and influencers. It's great to see people getting a feel for our technology and bringing ideas to the table that we had not even considered. How about coasters for your furniture business that use word of mouth to send customers straight to your online store? We already know the possibilities are endless, and the more people we meet the greater our platform becomes.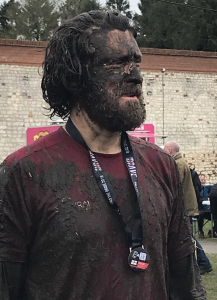 The East Anglian Air Ambulance was looking to innovate in how they sign people up to their lottery by enabling their 'Only the Brave' mud run entrants to simply tap their phone onto their medal. On the day of the event, the medals were used with our selfie templates to help spread the word. By choosing a filter for their selfie, their could let those who supported them know they'd completed it. It was a great cause to be involved with and fantastic to see a charity embracing innovative technologies.
Another fantastic Barclays event, this time for the Premier Team at Ipswich Town Football Club. Whilst Terry Butcher talked about his career, we ran a collectables competition using our technology embedded in footballs around the ground. Each one linked to information about the businesses attending, and gave attendees a quick way to collect contact details for the Barclays Premier team. And those who collected them all were entered into a draw to win champagne. It was a well-received activity that got very competitive, but more importantly lots more ideas and contacts came out of the event too.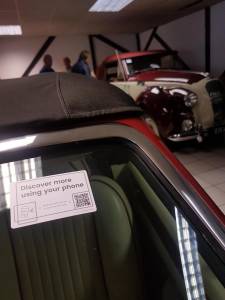 Who thought we would see our technology on a million pound Aston Martin? Definitely not me! But that's exactly what happened when we supported Stratton Motor Company at a Making things go faster with technology event. Each attendee had a 'smart' name badges, from which they could use their mobile to access information about the event and share their details with others – making networking a dream. Each car could be tapped or scanned with a phone to watch driving experience videos, download sales information, and more.
We have also been helping our friends at RBS by injecting our technology into their innovation events. By adding our technology to delegates' badges, they could instantly access the agenda, live polls and even find out where they were heading when they split into groups. All those who attended could also collect tokens from physical objects around the venue, providing information and links for the business, as well as questions for the delegates to get the most from their conversations. We were able to showcase the most inquisitive delegates, most popular, and even the most 'pied'.
It's been such a great few months for our events solutions, with new features being added based on amazing feedback from our hosts. With so much still to come, including a treasure hunt in a fantastic woodland venue for Grant Thornton and Nelson's Journey. With such a simple way to promote and enable networking, using 'in-the–moment' interaction – and the ability to process payments for paid activities, merchandise or food and drink, Thyngs has all you need to take your event to the next level.