Charities get creative for Christmas 2020
A quarter of charities predict a 25% decrease in donation income this year. 78% of these charities rely on Christmas fundraising.
As the cold months draw in, the vulnerable become reliant on charitable services. Age UK, Social Bite and RSPCA are experiencing one of the highest demands yet.
For charities to survive one of the most difficult winters yet, they're having to think outside the box.
Thyngs customers have been deploying cashless campaigns to better engage donors. Wherever they are. Whatever the circumstance.
SSAFA's online alternatives
SSAFA, the Armed Forces Charity, say that nearly a quarter of polled service personnel are experiencing loneliness in the lead up to Christmas this year. With over two thirds saying that they felt more lonely than usual at Christmas.
The lack of events and closed support hubs has amplified SSAFA's urgency to become diversified in their fundraising approach.
With digital out-the-box alternatives they're able to reach donors at home or in-distance. Helping to amplify the fight against loneliness and isolation this year.
The SSAFA Christmas Carol Service has gone virtual. From 2nd-16th December the service will be available to watch online. This means supporters can enjoy the event from the comfort of their home. SSAFA are also running an online silent auction.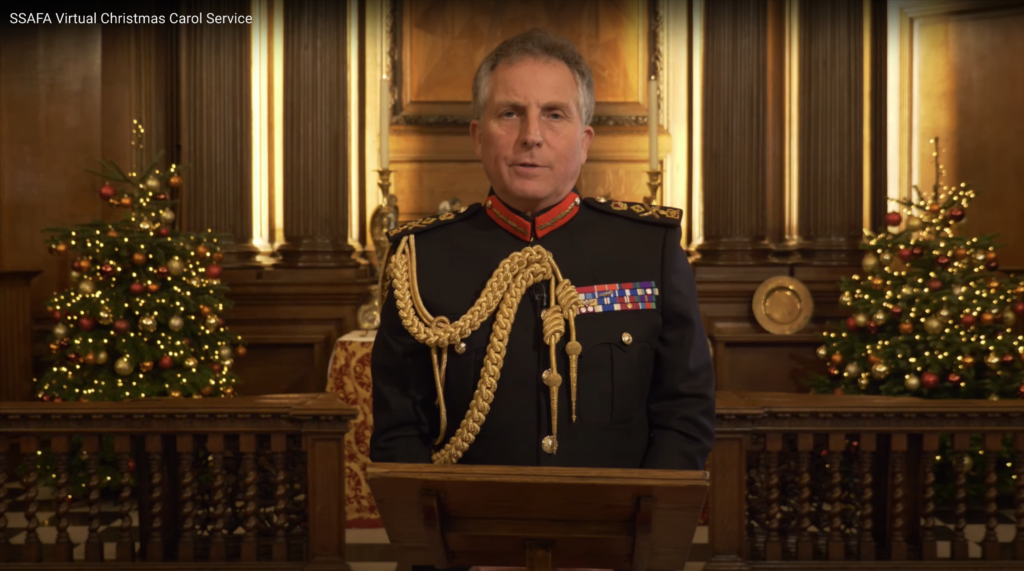 This is only an introduction to SSAFA's cashless plans for the new year. Beyond their new cashless buckets, the charity plans to transform further physical assets. 
Jonathan Sandall, Director of Fundraising for SSAFA said:"Without doubt, having a diversified portfolio of income streams has helped us weather the C-19 storm in 2020 better than we might have expected."
"QR codes provide an effective and fluid bridge between physical and digital channels. For example, adding QR codes to newsletters, posters or catalogues. Linking to rich media content or to a seamless donation experience."
Learn how SSAFA are implementing digital tools into their long-term fundraising strategy. 
Clic Sargent's supermarket appeal
CLIC Sargent is the UK's leading cancer charity for children, young people and their families. This Christmas they're working even harder to bring light to those living through the darkest of times.
CLIC Sargent are connecting with their physical supporters this Christmas in ways they still can.
The charity is connecting with supermarket shoppers, even when they can't be there in person.
Using festive QR posters and interactive buckets in-store, supporters at Morrisons are able to donate to the charity. In a way that suits them.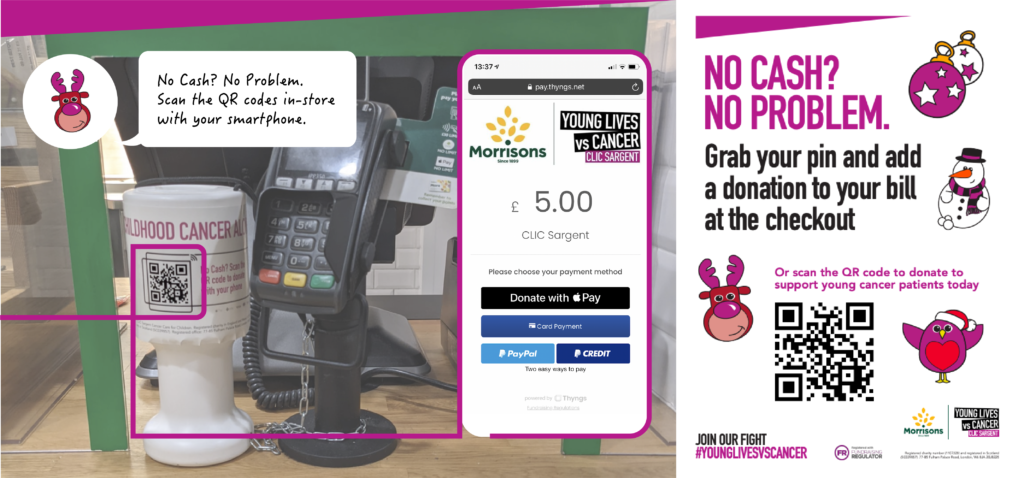 At distance, donors can scan the QR code on posters or buckets to donate securely using their smartphone. Alternatively, they can add a donation at check-out by purchasing a CLIC Sargent pin.
" It has been more important than ever to think outside of the box this year and act
quickly
.
We've been pushing our digital incentives both online and offline, in ways that ensured support could continue even if we can't be there in person
. It is crucial that we keep our team, supporters, and the public safe.
Having a flexible cashless platform that can adapt to our every need and circumstance has meant that we are able to continue our fundraising in-person
safely
and
efficiently
. "
-Ruth Hall, Corporate Account Manager at Clic Sargent
CLIC Sargent is setting a great example for those looking for ways to reach new and existing supporters in-person. Whether it is an interactive sticker on store windows or posters in supermarkets, charities shouldn't miss a trick in 2021.
RAF Museum Christmas Trail
The RAF Museum is hosting a variety of fun initiatives to fundraise, engage their visitors, and make gifts stand out this year. They are going above and beyond with innovative ideas that ensure their online and offline donor experiences are one to remember.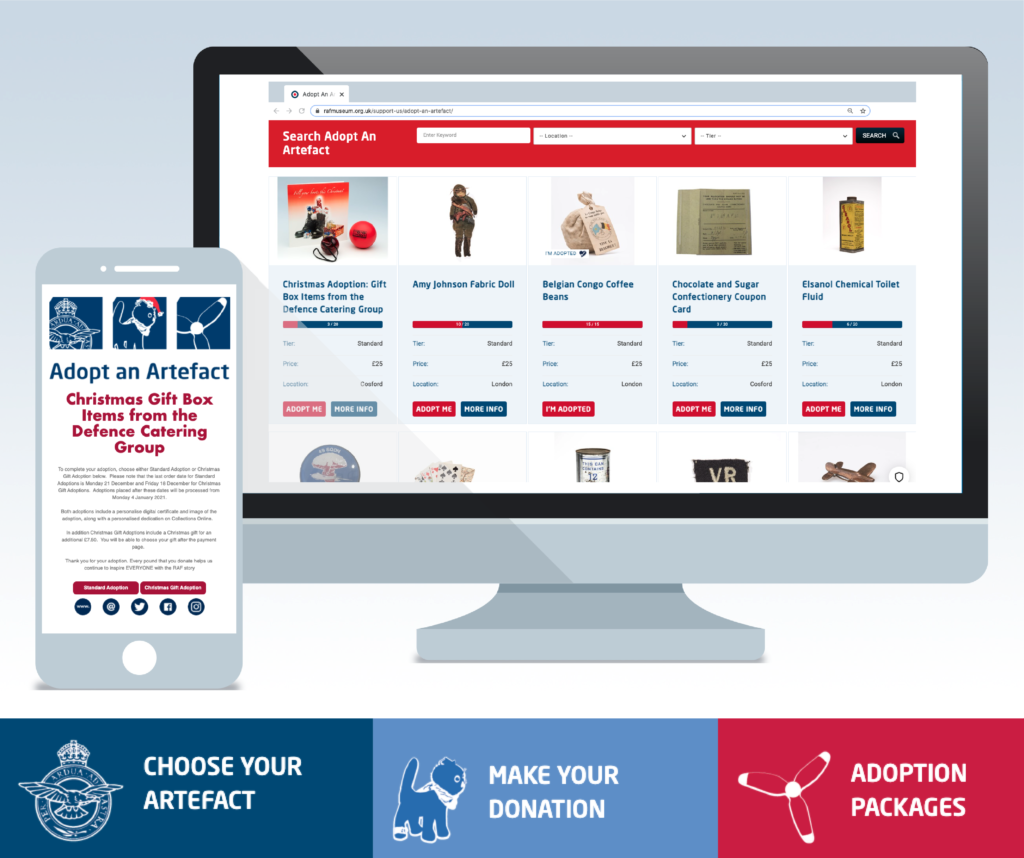 Using the cashless platform, the charity has updated its 'Adopt an Artefact' incentive for Christmas. Offering the public the opportunity to adopt one of over 60 objects within the Museum's collection online, donors are able to find a gift for the person who has everything. At the same time, donors are able to make donations go a little further by raising money for the Museum.
All adoptees will receive a digital image and certificate of their adoption, along with a personalised dedication on 'Collections Online'. The Museum's new digital collections system. 
Those adopting an artefact for a Christmas gift will also receive a Christmas card and the option to add a bespoke RAF Museum gift for £7.50. Making it the Christmas gift that gives twice.
In time for Christmas, the Museum has added a new adoption – the 'Christmas Gift Box Items' from the 'Defence Catering Group'. The Gift Box was sent to RAF personnel serving overseas in Iraq in 2004. 
This RAF tradition began in 1914. Princess Mary supported the creation of a fund to pay for a Christmas Gift Box, which were sent to every serving member of the UK Armed Forces.  
Adopting the Christmas Gift Box package is a timely reminder of the Christmases that many families have spent apart.
It highlights the importance of bringing a touch of home and Christmas joy to loved ones, wherever they may be.
The RAF Museum are also engaging visitors and their families in new and exciting ways. Visitors can join a 'Virtual Christmas Trail' by scanning individual QR codes around the Museum.
With every QR code unique, a festive digital stamp can be collected with a clue to where the next stamp can be retrieved.
The no-fuss incentive aims to encourage better engagement and exploration within the Museum. As well as keep children entertained.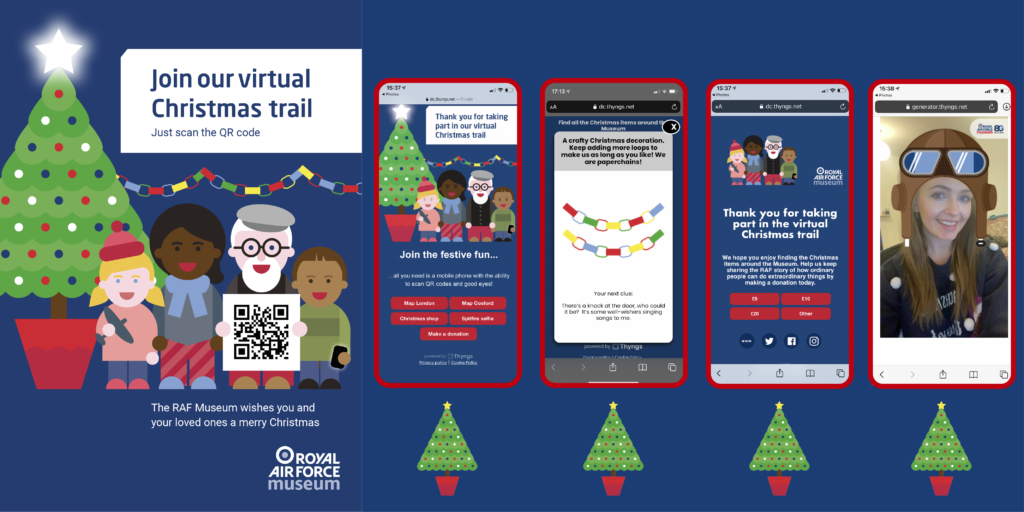 Get Elfie with Dorothy House
Dorothy House Hospice is counting on the dedication from their supporters this year. They're helping deliver the magic of Christmas to patients in their community.
Harnessing the pre-Christmas desire to 'get fit and elfie', the charity has engaged supporters in new ways that work in-distance. Those in Bath dug out their jingle bells, strapped on their trainers and got "Elfie" for Christmas.
Anyone was able to take part, and all they needed was a phone or device that could scan a QR code.
An incentive to engage donors in a 10k race across the city, Dorothy's virtual friends were scattered across the city. QR code check-points were within 1k of one another to encourage re-engagement with the city.
Donors and families taking part were able to interact with the unique QR codes to collect a character and earn points. Donors who raised more than £200 received a 'Get Elfie Hoodie'.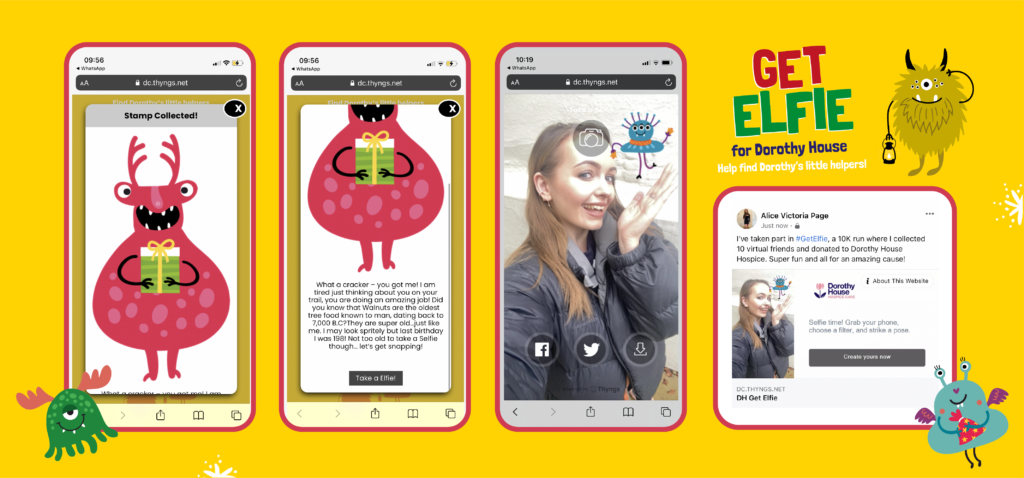 Social Bite's Festival of Kindness
Social Bite, a charity on a mission to end homelessness, has partnered with the Mitchells & Butlers venues in Scotland to fund Christmas meals and food packs for vulnerable people over the winter.  The charity's overarching Festival of Kindness movement is aiming to provide 250,000 meals and essential items to people who are homeless and experiencing food poverty across the UK. 
Diners in the group's restaurants and bars across Scotland will be invited to make a donation during December. Those at Miller & Carter Steakhouse will be given special tap-and-go cards with their bill, giving them the opportunity to make a quick and secure donation to Social Bite. 
The QR code and invisible NFC sticker means anyone with a smartphone can interact with the cards to give back this Christmas. Whether it's at the restaurant, on-the-go, or at home. It's zero-fuss and 100% feel-good.
All donations will fund Christmas meals and food packs for homeless and vulnerable people, with some also invested in long-term employment and housing projects to really break the cycle of homelessness.
The partnership sets a powerful example of how corporate partners can help charities fundraise. Easily enable branded merchandise to add life-long value to fundraising campaigns and incentives. Leaving donors feeling good by doing good, whenever they like. 

Easy cashless transformations to existing physical and digital assets has meant that charities are able to fundraise and engage new and existing donors, even if they can't be there in person. By thinking outside of the box, charities are preparing for a secure, exciting and effective fundraising strategy for 2021. Are you ready for the new normal? 
Get in touch for a demo of Thyngs or to discuss how to engage your donors in 2021.