Thyngs FAQs – CEO answers Seedrs | Part 3
Good morning, Neil Garner here from Thyngs.
We thought we would give you a few updates on what's been going on and answer a few questions.
Thanks again for huge support
We're very pleased to announce that we've been on Seedrs for a week and a half and reached 124% over-funding, so far!
This is an incredible achievement and we could not be more grateful to everyone who has shown their support.
200% funding target
I'm thrilled to confirm we are continuing the campaign with Seedrs with the aim of reaching 200% funding.
So, without further ado, let's go into some questions…
Another day, another 2 questions
If you'd prefer to view this content in its original form, check out the video from our YouTube channel here 
https://youtube.com/watch?v=9rPeqDqW24k
Q: "Why does an investment in Thyngs seem so superior to other businesses seeking crowdfunding, in terms of value vs stage of development?"
That's a fantastic question… but first, I just want to kind of give a bit of clarity on where we are at.
Where we currently are
We built the business ✅
We built the platform ✅
We've got customers ✅
We've got partners ✅
We've got revenues ✅
We've done over half a million in revenue to date ✅
We're anticipating a net 1.7 million revenue in 2020 ✅
The great thing is, we've also been engaging with PwC as our broker for Series A funding, and we've already talked to about 30 or so VC's that are interested in Thyngs who we are anticipating re-engaging with when our KPIs in the business (IE; monthly recurring revenue) is at the right level for us to have a range of turn sheets.
Last external fundraise
We're already engaged with those investors today, so actually, this fund raise is our last external fundraise before we go into that process.
We're anticipating a significant value uplift when we get to that point because we're aiming to raise about 4 million!

Q: "How do we safeguard against fraudsters?"
Yes, it is possible to put a QR code sticker on top of another one. But, if you look at the global market, QR codes are being used massively everywhere.
In China, QR codes are used on all sorts of things to make purchases through mass-scale apps like WeChat Pay and Alipay.
NFC technology is key to Thyngs
But the key thing about Thyngs is, we quite like QR codes because they work and you can open your camera to scan them, but everything we're doing if you look at it is including this NFC technology.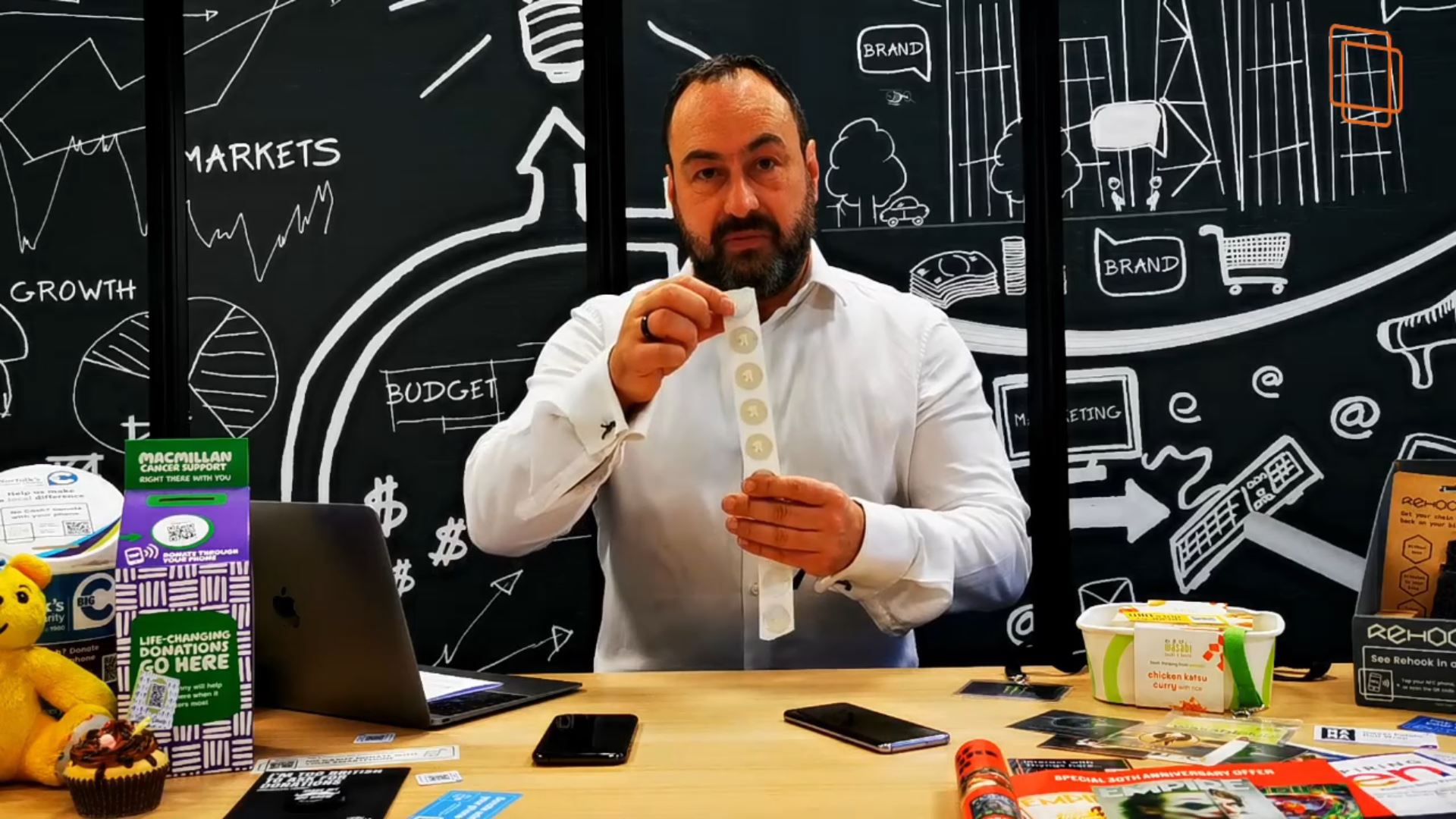 NFC is a little secure chip – inside everything you see here – and when you tap your smartphone on it, we guarantee that the chip is what it is supposed to be, because we've manufactured it and produced it securely. For example – You could guarantee that that chip had come from British Legion or Movember or was actually a product that was endorsing a particular brand.
As the technology enhances, we can produce these chips to the same security standards as a credit card.
NFC is safe & secure
As NFC technology evolves – and it's already built into our platform – you can make secure interactions with physical things and therefore we combat that fraudulent attack.
We're already operating our technology in retail environments. Wasabi's loyalty program is using our tech and we see over 1000 new loyalty customers a day.
We've already built into that system things like white listing, fraud checking and email address validation. We have a lot of fraud and security risk features built into it to process all the transactions we're processing.

Thank you for your time. I'm happy to answer any more questions.
From all of us here at Thyngs, a huge thank you to all those investors who have already invested in Thyngs. Join the party. Come on board. We'd love to have your investment.
Neil