Thyngs & TBWA Revolutionise ANZ Daffodil Day Donations
Ready for the future of giving? In a New Zealand first from TBWA Group NZ, ANZ introduces the Smart Daffodil, an innovative development that shakes up donating this Daffodil Day. Launching as part of ANZ's support of the Cancer Society of New Zealand & the Daffodil Day annual appeal.
The Smart Daffodil and its cashless donation scheme that completely modernises the act of giving and the power of public donation. Thanks to technology from UK start-up Thyngs, ANZ and TBWA Group, NZ's Smart Daffodil is a wearable donation badge with a small unique QR code at its centre. When scanned using a smartphone, the daffodil becomes a simple, contactless form of payment that connects through Apple Pay, Google Pay or credit card: no extra payment app needed.
Previously used for the Movember Foundation in Australia and 10 of the top 20 charities in the UK, the technology is set to be a game changer for charitable organisations throughout ASIA. The aim of the pin is to increase the pool of fundraisers by turning the wearer into a donation point that then compliments more traditional forms of fundraising.
"We are helping fix a real problem for charities globally.

People aren't carrying around as much cash anymore, the world is becoming cashless," 
says Jamie Conyngham, MD Thyngs ASIA.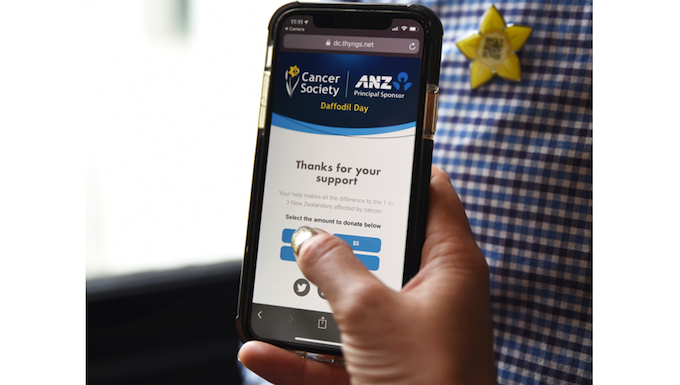 In their 29-year partnership with Cancer Society, ANZ has helped raised over $20million through donation initiatives for Daffodil Day. This year alone they are aiming to raise another $1 million, "By developing a wearable donation portal, backed by simple cashless payment technology, we are creating an army of fundraisers with more stories to tell and the power to pass it forward," says Shane Bradnick, TBWA Group NZ Chief Creative Officer.
"We're hoping people will wear the pin for the whole month to help raise more money than ever before for the Cancer Society."
The campaign will be supported by tailored executions in branch, online, in press and OOH. Sue McGregor, Head of Sponsorship & Corporate Marketing for ANZ comments, "We know Kiwis are passionate about supporting causes especially ones as important as the Cancer Society, but with less and less time we can all find it difficult and daunting thinking we have to do something epic like run a marathon –
The Smart Daffodil has made it possible for Kiwis to become fundraisers while going about their regular business."
Available at ANZ branches nationwide in New Zealand, the Smart Daffodil can be purchased for $3.00 with all proceeds going to Cancer Society. The Smart Daffodil's are LIVE on AM TV as they kick off a fundraising competition. Who will win? 26/08/19 – 30/08/19
CAMPAIGN CREDITS: Client: ANZ New Zealand Agency: TBWA Group NZ Technology provider: Thyngs UK