Movember trials Thyngs' NFC-enabled fundraising badges
Movember has teamed up with Thyngs to create a unique contactless donation badge for their moustachioed fundraisers this November.
The charity aims to change the face of men's health by addressing some of their biggest health issues such as testicular and prostate cancers, mental health and suicide prevention. Throughout the month, men are urged to "grow a mo, and save a bro" in a bid to create conversation, raise money and inspire change.
Grow a mo, and save a bro
Movember is as much about opening up discussion about men's health issues as fundraising. The charity was looking for a way to prompt conversation as well as making it easier for friends and family to donate.
So Movember approached design agency Bond & Coyne, which came up with the idea of badges. These feature Movember's signature moustache logo and phrases such as "It's a grower" or "Moustache on board" to indicate the wearer is dedicating their top lip to charity for the month and is, indeed, growing a "mo" to save a bro.
But that's not the cleverest bit. Each badge is enabled with Thyngs' clever contactless near-field communication (NFC) technology, meaning that anyone who wants to chip in can simply tap the badge with their smartphone and make a quick and easy donation.
Movember – No Fuss Fundraising from Bond and Coyne on Vimeo.
NFC-enabled badge for quick donations
Thyngs' technology turns any physical item into a cashless donation point thanks to an embedded chip. Anyone with an NFC-enabled smartphone – like most Android models and the latest iPhones – can then scan the chip with their device and donate via Google Pay or Apple Pay. They also have the option to use PayPal or pay by card.
This year, Movember is piloting the badges with select fundraisers in the UK, the US, Australia and Canada. These are easy for fundraisers to set-up, again by tapping their smartphone on the badge and following the set-up instructions to activate.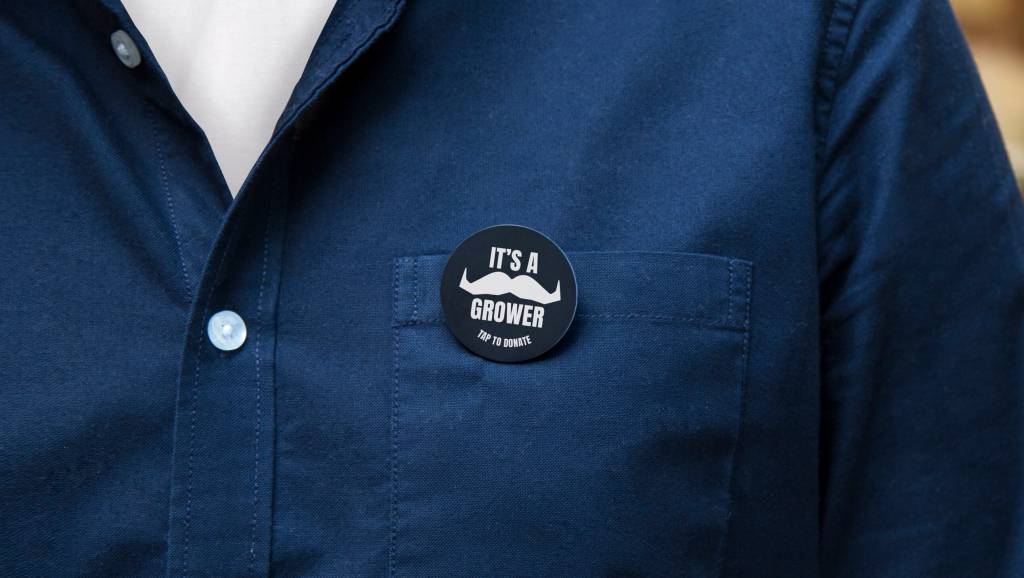 An added bonus of using the Thyngs technology-enabled badges is that, in addition to making it easier for people to donate, they let Movember participants see how much they've raised through the fundraising dashboard.
Growing a mo is not the only thing people do for Movember. More daredevil fundraisers are doing crazy things like running 60 km in one day, circumnavigating the world on a motorbike, or taking a dip in the Thames. But for those growing a 'tache for the month in the name of charity, the badges provide an excellent way of raising money without moving an inch.
If you're looking for more involving, no fuss donation solutions get in touch with us.