Nintendo and Kellogg add NFC tags to cereal boxes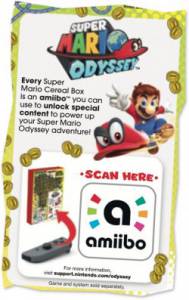 Cereal giant Kellogg has teamed up with Nintendo to create NFC-enabled cereal boxes, reports NFC World. The special edition Super Mario Cereal boxes will start shipping in the US from 11 December.
The intention is that kids will be able to tap the box with their Nintendo Switch games controllers to receive gold coins and hearts whilst playing the Super Mario Odyssey game.
It follows a long tradition dating back to 1909 when the first cereal box prize – a copy of The Funny Jungleland Moving Pictures Book – was given to customers buying two packs of Kellogg's Corn Flakes.
Neither Kellogg nor Nintendo reveal what the tags will do if used with any other NFC device such as a mobile phone, but it is clear that if others follow suit a new generation will grow up familiar with (and even expecting) the ability to use an electronic device to tap a physical object in order to claim a reward or perform other tasks.