Futureproof your loyalty programme for Generation Z
Tech savvy and money conscious, Generation Z are expected to account for 40% of all US consumers by 2020 – making them a key market for any retailer. And one of the best ways that a company can capture the attention of this fast-moving consumer group is by offering a dynamic and engaging loyalty programme.
The term "Generation Z" refers to people born between the early 1990s to the mid-2000s. They are extremely tech savvy, with 96% of them owning a smartphone, and nearly half of them spend about 10 hours a day on their various devices, according to Mediakix.
As such, any rewards scheme targeted at Gen Z must appeal to those that spend much of their lives online. It needs to be easy and immediate for those consumers who don't want to carry a wallet full of loyalty cards, or download yet another app, and mimic their usual omnichannel online experience.
Are traditional loyalty ideas doomed?
Thyngs' platform lets retailers create frictionless loyalty programmes that simply require customers to tap their smartphone against a near-field communication (NFC) point, or scan a QR code. No stamp cards required – just tap and go.  
Personalisation is also key for brands to be able to stand out from the crowd. One-size-fits-all schemes don't resonate with Gen Z and instead, retailers need to build a personal relationship between their brand and their customers. As Allison Novak writes for Multichannel Merchant: "Use graphics and lifestyle images that mimic the user experience of apps and social channels that are already used by Gen Z."
Using Thyngs technology, companies can boost customer engagement by offering a fully interactive experience that is well beyond the scope of a traditional card-based scheme. By placing a simple NFC chip on any physical item, retailers can offer anything from a virtual stamp card, to special offers and online video content.
Generation Know…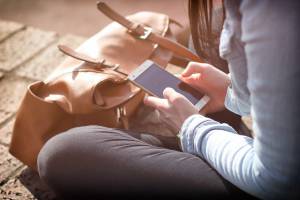 Gen Z also tend to be born self-learners and more money conscious than their Millennial predecessors, perhaps as a hangover of having grown up with the impact of the 2008 recession. Using Thyngs technology, retailers can tap into this money-saving tendency by gaining valuable insights into their customers beyond the scope of traditional card-based programmes. This, in turn, allows them to offer users special offers, such as price reductions and exclusive products, based on their previous purchase history.
However, Gen Z consumers are also more likely than other age groups to be data conscious, and are not as keen to give away their personal information. Thyngs' loyalty technology allows for this by requiring no form filling on behalf of the consumer, meaning their data remains anonymised until permission is granted otherwise.
With Gen Z set to become a major market for online and store-based retailers alike, it is vital companies capture both their attention and their imagination to build their businesses. And there are few better ways of doing this than by implementing a creative, dynamic and frictionless loyalty scheme to boost customer engagement and encourage them to come back for more.