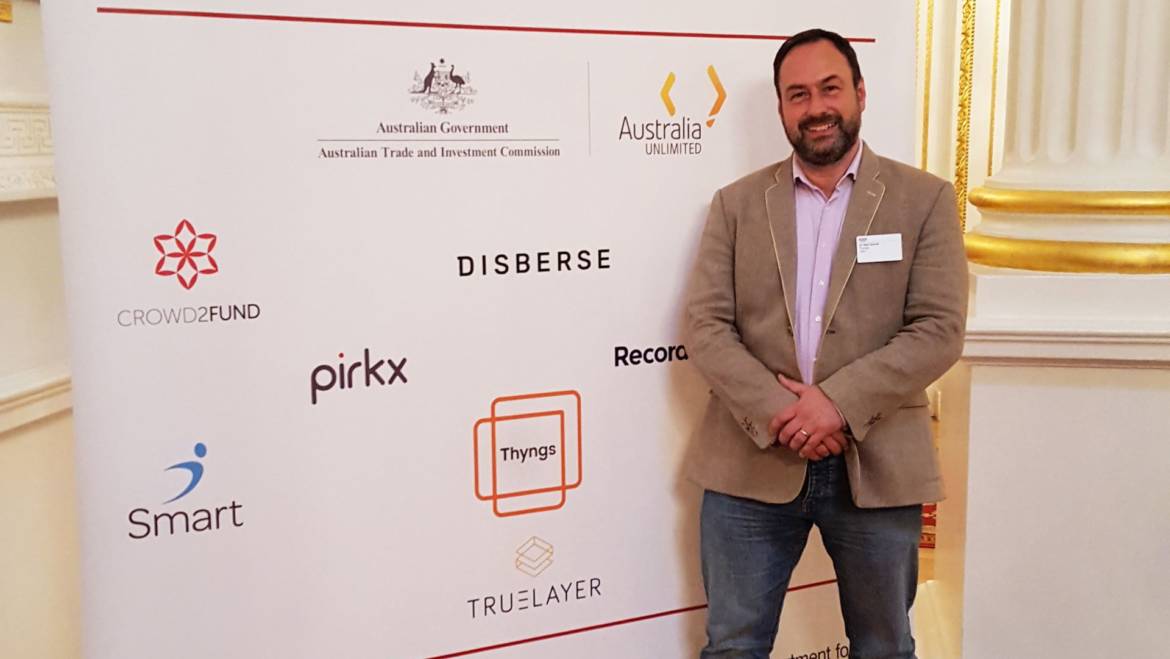 Near-field communication (NFC) technology platform company Thyngs has been named as one of just 20 companies selected to join the UK Government-backed international Fintech Bridge pilot programme in Australia and Hong Kong.
The 10-month schemes are designed to boost innovation in the sector and build on the Department for International Trade (DIT) and HM Treasury's existing Fintech Bridge agreements with the two countries.
Norwich-based Thyngs is one of 10 fintech companies in the Australian cohort, while another 10 will travel to Hong Kong. All participants in both locations will participate in a series of activities and receive tailored support from the DIT, including mentoring and networking advice, until November.
Thyngs uses NFC technology, available in all the latest smartphones, to create powerful multichannel commerce solutions that bridge the physical and digital world. Its solutions can be used to transform any physical product, packaging or advertisement into a digital interaction or payment point, without the use of any app.
Thyngs CEO Neil Garner said: "We are delighted to join the Fintech Bridge Pilot Program in Australia and are looking forward to the opportunities and challenges it will present us with. Our selection serves as a real testament to both our product and our team."
A Fintech Bridge represents an agreement outlining collaboration between two governments, co-operation between regulatory bodies and connectivity between two markets and ecosystems. The UK Government has already signed such deals with Australia, Hong Kong, China, Singapore and South Korea, in a bid to encourage the sharing of information and boost discussions around areas of best practice.
Australia and Hong Kong offer particularly large-scale business opportunities, with almost 1,000 fintech companies and excellent connections to other key markets in Asia-Pacific. In China, more than $12.8bn in mobile payment transactions were made between January and October last year alone.
Sydney-based Jamie Conyngham, Managing Director APAC at Thyngs, said being part of the Fintech Bridges programme will help the company gain commercial and strategic traction in the Asia-Pacific market. "We're seeing payments by phone soar across Asia and in Australia, where about 90% of payments are made using contactless technology.
"We believe that as well as Australia, DIT will be a partner for other countries in the region to help us with expansion by facilitating important, tailored introductions and advice."
Speaking at the launch of London's Fintech Week, Secretary of State for International Trade and President of the Board of Trade Liam Fox said: "I'm delighted to announce the launch of DIT's Fintech Bridge Pilot Programmes. The two cohorts are made up of sector-leading companies representing the spirit and innovation which make London an undisputed global fintech hub."
"With the UK accounting for 11% of the global fintech industry and employing over 75,000 people in the UK, DIT will continue to support fintech and build upon initiatives and policy frameworks, such as the Fintech Bridge Programme for reaching key markets and ensuring we remain at the forefront of the industry."
To find out more about how Thyngs NFC technology can be used to turn anything into a contactless payment point and boost customer engagement, get in touch.