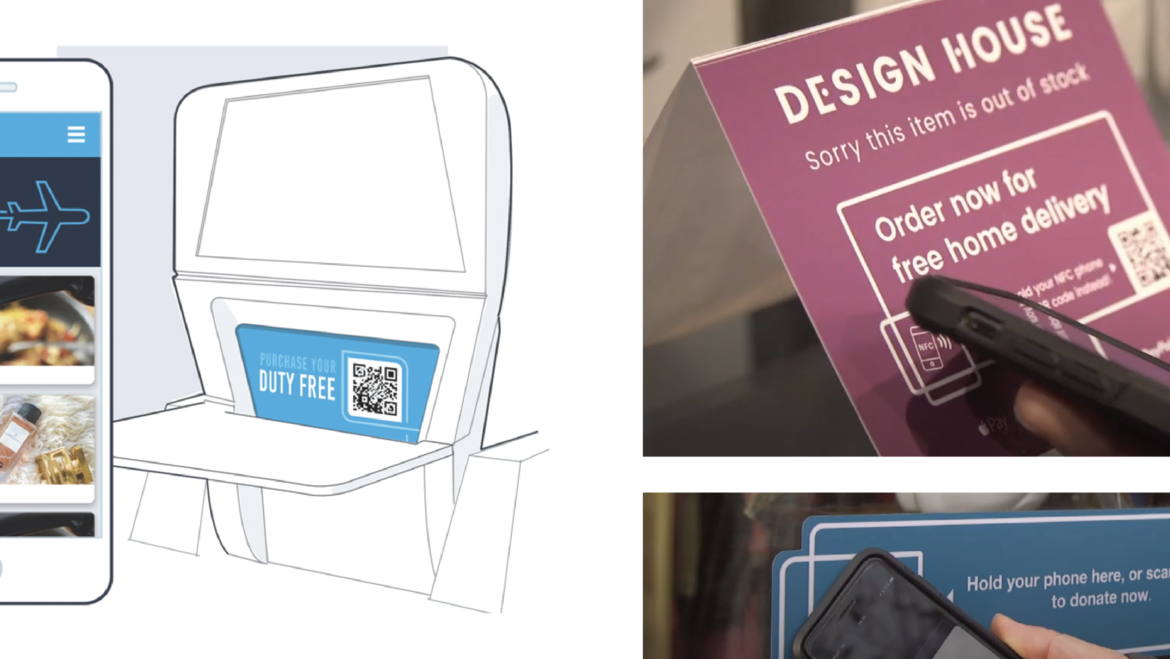 Payment tech startup evolves 'tap and go' tool to help SME retailers, restaurants and cafes - faced with tackling £4billion loss of income across Europe - get back on the road to recovery.
Thyngs - the physical-digital payment platform - has evolved its touch-free technology to deliver an instant order, pay and marketing solution that will help the retail and hospitality sector welcome customers back safely, and tackle the estimated £4billion loss expected across Europe, as a direct result of the global pandemic.
Since lockdown, many SME retail and hospitality businesses have rapidly expanded or pivoted their offerings in order to generate revenues outside the physical premise-based model. Restaurants are now offering takeaways, high street retailers have invested more in digital engagement and expanded ecommerce. Third party solutions have enabled the fast roll-outs of these new offerings, but for many small businesses, a sacrifice has been made in terms of margins or connection to the customer, in order to chase lost revenues. Now lockdown measures are being eased, the new challenge is how to better integrate physical retail presence again with social distancing in mind.
The latest iteration of the Thyngs tap-and-go technology has been designed to give mid-tier retailers, shopping centres and hospitality businesses a cost effective, easy and safe way of offering completely touch-free transactions, along with expanding the possibilities for socially distanced interactions with customers.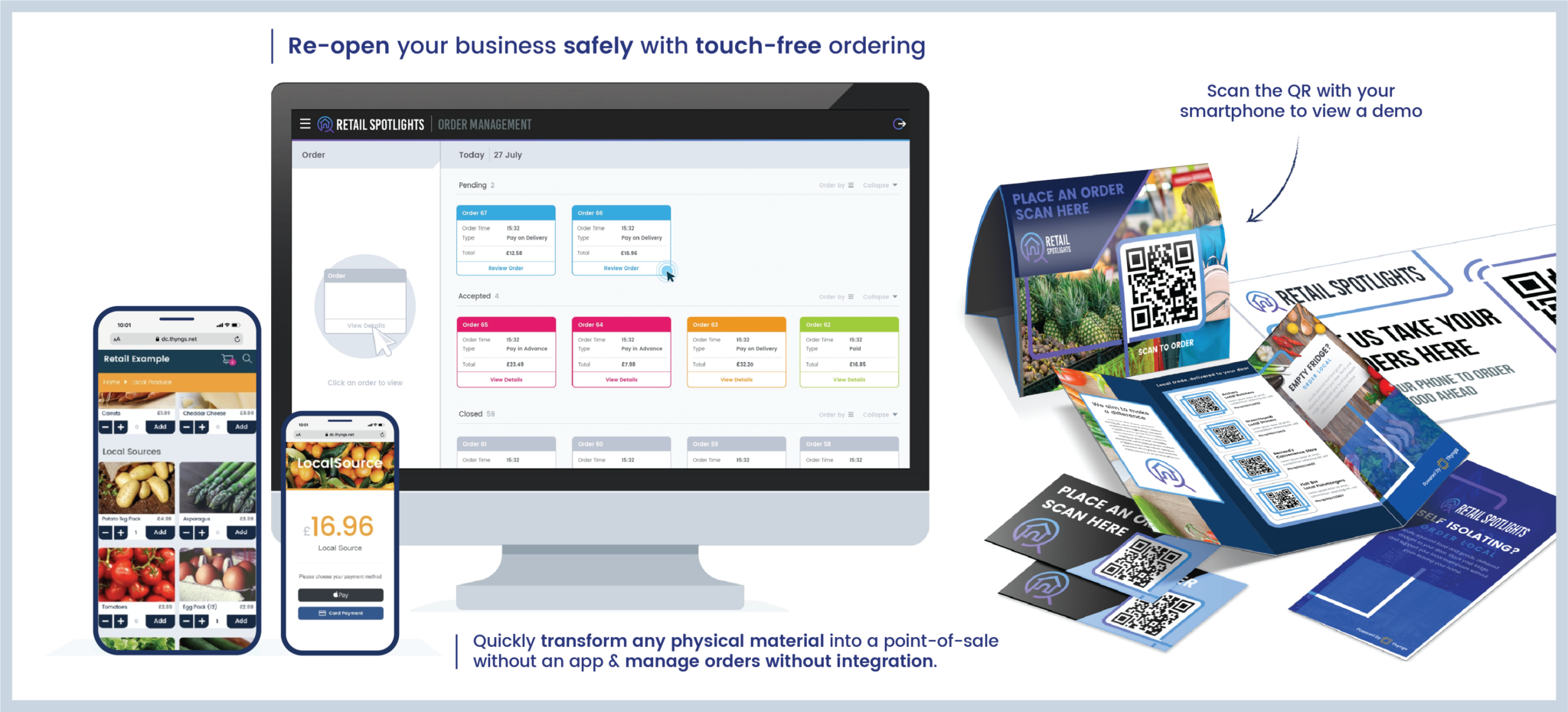 ---
Why would retailers/hospitality businesses want the Thyngs touch-free solution?
The ability to upgrade any physical or digital initiative - from interactive menus to promotional emails, flyers and tappable packaging - into an instant, seamless, and app-free marketing, ordering or payment service.
Fast to deploy as can be set up for businesses in hours and deployed in days.
Enables instant (or order ahead) touch-free transactions at a low cost.
Eliminates commission charges from third party players that offer ecommerce, order-ahead and take-away solutions - Deliveroo/UberEats etc.
Multiple low cost print options with easy-to-edit digital menus/catalogues portal as seasons, offers, and products change.
Quick and easy set-up of fully manageable touch-free commerce and marketing solution - no integration, app or additional tech spend.
Keeps businesses in control of all customer and transaction insights - understands the end-to-end customer journey through from promotion to transaction via real-time analytics platform that garners unique and valuable customer data, including time, location, number of interactions, conversions, instant payments and type of smartphone device.

Consumers will also feel the benefits:
No additional app download needed, just 'tap' or 'hover' with smartphone NFC just like contactless or 'scan' using standard phone camera
Safety first at traditional points of interaction and transaction
Better customer journey with minimal or no data entry
Increased connection and knowledge about the Covid-19 positioning of their favourite stores, restaurants or cafes
CEO and founder of Thyngs, Dr. Neil Garner said:

'Non essential shops preparing to re-open their doors on June 15 face a slew of challenges never been faced before. When you think of in-store interactions and transactions, they depend largely on close physical proximity, where staff and customers have to engage with publicly available payment terminals that may carry hygiene risks. Our tap and go technology success in the charity sector - which is facing a similar shock of £4billion loss of income from the crisis - has given us the learnings and capability to evolve and make it relevant for the retail sector.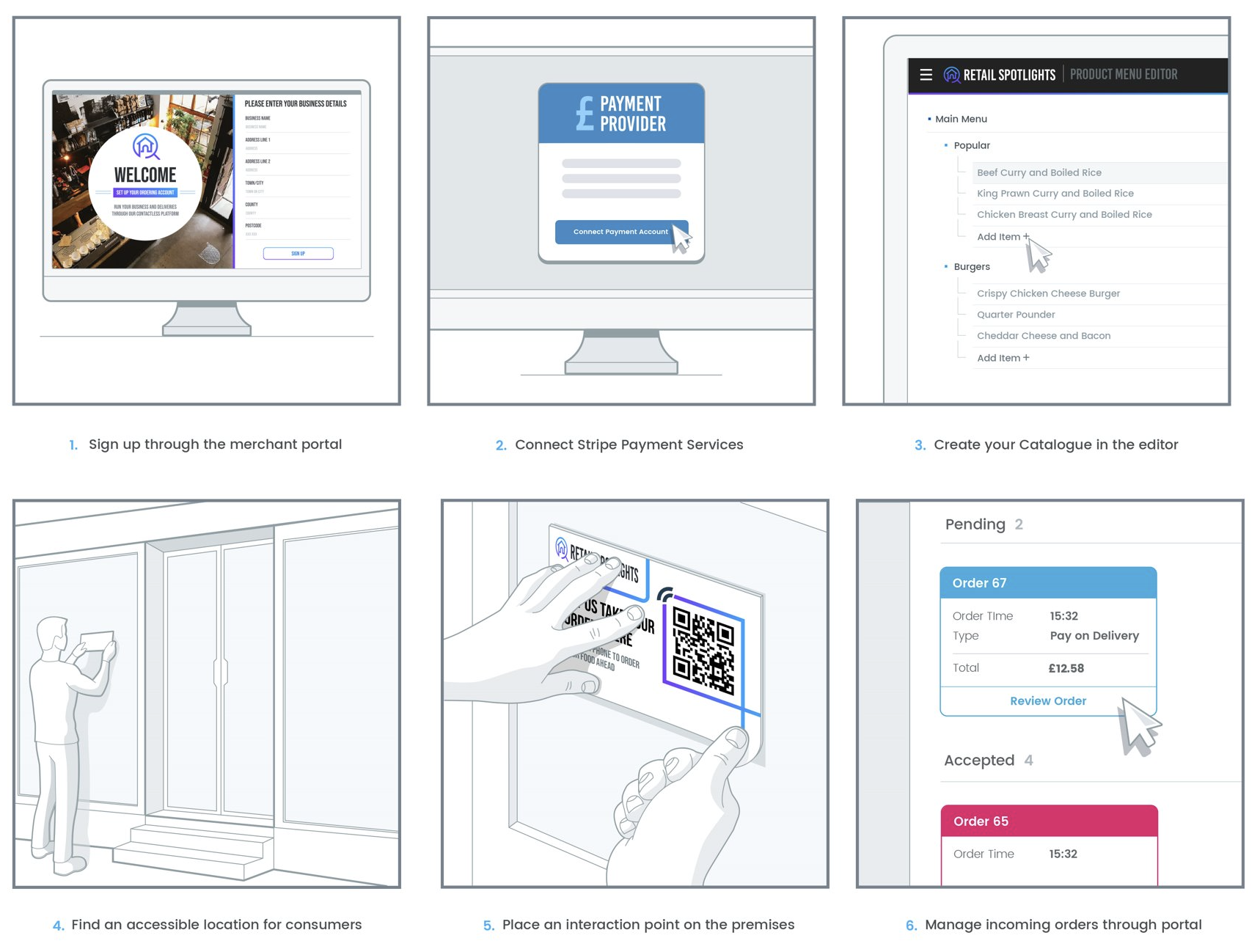 'Heightened consumer concerns around hygiene and safety, particularly at points of sale, has become a catalyst that is propelling us closer to a world we have already envisioned, where Point of Sale tills won't exist: no more queueing together, exchanging of cash or touching card terminals. It makes more sense now than ever to apply an Apple-pay style of 'tap' solution where Near Field Communication technology activates within 5mm, therefore remaining completely touch-free and safe… supported by 'scan' of QR codes for older phones and use in digital channels."
Simple on-line self-serve portal for merchants to set-up menus, manage payments and process orders. Potential opportunities for City centres and shopping centres to support multiple businesses.

---
How* does Thyngs work?
Already successfully rolled-out in the charity and publishing sectors, Thyngs' technology turns any physical branded object into a point of sale using smart 'tap and go' technology such as QR codes, Near Field Communication (NFC) and Apple Pay.