Off-the-shelf and custom hardware
We supply low-cost NFC stickers that can be applied to objects or hidden behind artwork and battery-powered Bluetooth beacons that can be positioned in or near spaces. Configure their behaviour via our cloud-based system, deploy them, and track user engagement in real-time.
Web management
No software to install, just use our secure, cloud-based online management tools to configure what happens when users tap an NFC tag, scan a QR code, or go near a Bluetooth beacon – then deploy. Every interaction is logged and behaviour can be changed centrally at any time, providing complete visibility and control.
Batch configuration and deployment tools
We support the latest proximity hardware, including short URLs, QR codes, NFC tags, and Bluetooth beacons. They can be provisioned individually or in batches for maximum flexibility.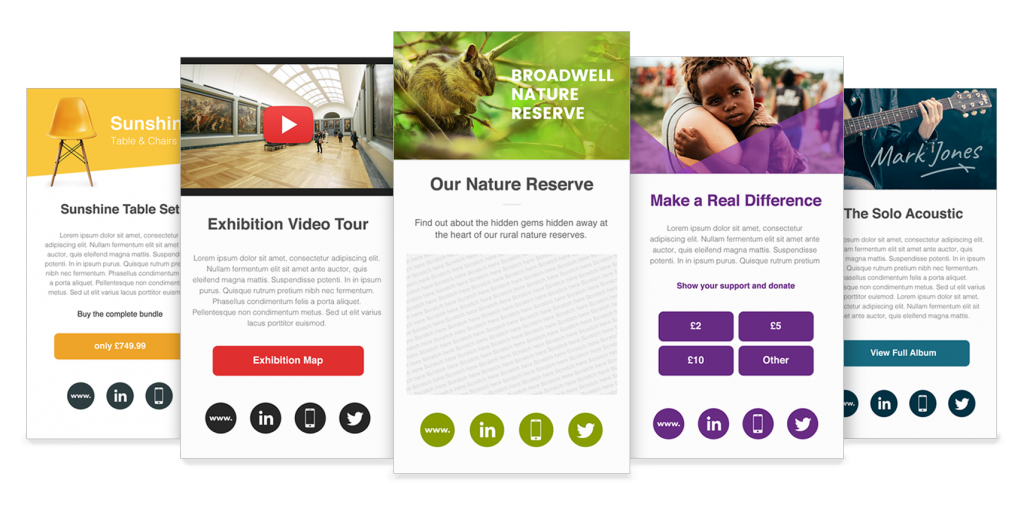 Ready-to-use mobile templates
Ready-made mobile templates can be easily customised online and linked to your hardware. These provide video, social media, contact, stamp card, treasure hunt, scratch card and donation functionality.
Payment processing
Activate a payment module to allow users to make mobile payments or donations via Apple Pay, PayPal, or debit/credit card (Android Pay and Samsung Pay coming soon).
URL redirection
For complete control, each touchpoint can be linked to any URL anywhere on the internet. This allows existing mobile content and services to be used or new experiences to be created.
In-app messaging
Send messages to everyone who has interacted with your touchpoints via the Tap & Scan NFC app directly from our management console.
QR code & short URL creation
Quickly create QR code and short URL 'virtual' touchpoints and use them on your materials immediately, or in conjunction with NFC and beacon physical touchpoints.
Beacon messaging & tracking
Automatically send messages to smartphones via the free Tap & Scan NFC app when people enter, exit or dwell near beacons at your locations, shops, event stands, or venues.
APIs, webhooks and SDKs
For those who want ultimate flexibility, we provide APIs, webhooks and a mobile SDK that can be used to create completely new products and services on top of our platform.
Get In Touch
If you need any assistance with devices, prices or resources you can contact us and our team will help find a solution.