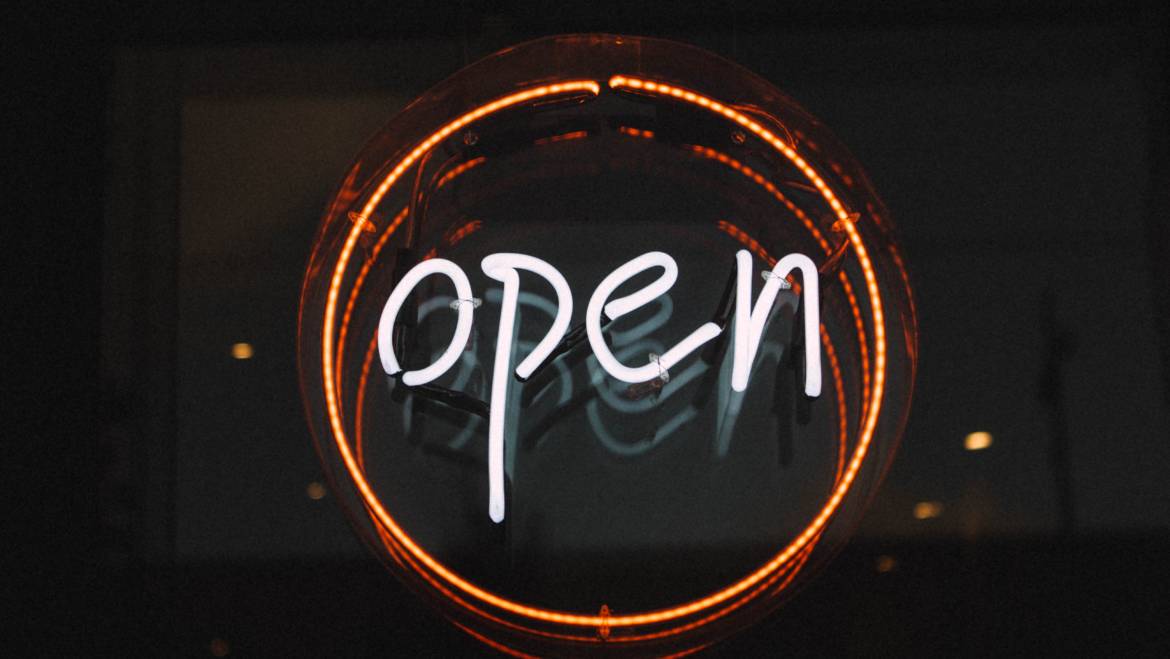 Now available on all the latest iPhones and Android smartphones, near-field communication (NFC) technology has finally hit the mainstream. But while many people are aware of the benefits of using NFC-enabled smartphones for contactless payments, its full potential for marketing remains largely untapped.
---
Marketing benefits of NFC marketing
NFC technology can be used to turn any physical item into an interactive engagement point, making it an invaluable tool for marketers. Customers can simply tap an NFC-enabled tag with their smartphone to access multimedia content, learn more about a brand or product, or make a quick and easy contactless transaction.
Meanwhile brands can create interactive experiences that bridge the virtual and physical worlds, build brand loyalty, and increase in-store and digital traffic. At the same time, they can learn more about their customers' actions and preferences; data which can then be used to inform future offline and online marketing campaigns.
With its ability to boost customer engagement and provide valuable insights into a brand's clientbase, NFC technology is becoming an essential marketing tool. But while it's been used for everything from putting turning medals into a charity donation point to launching movie trailers from a smart tattoo, the technology currently remains synonymous with payments.
This is largely due to the functionality only relatively recently becoming available to most smartphones. However NFC technology is now available as standard in all the latest iPhone and Android smartphones, meaning its future uptake is likely secured. In fact, Apple Pay chief Jennifer Bailey has just revealed that it was working with US retailers to use its NFC-reading capabilities to make it easier for payments and loyalty sign-ups.
So the challenge will be to broaden people's perspectives on the potential uses of NFC technology to include customer engagement and marketing channels, as well as quick and easy payments. And one of the key ways to doing that is to create clear and definitive calls to action (CTAs) that are immediately recognisable to users.
---
What is an NFC-enabled call to action?
A call to action, or CTA is the point in print, or on a product, that lets people know it's interactive and where to interact. As NFC technology only operates over a short range, a smartphone has to be within close proximity to the tag to work – so a user needs to know where to "tap".
As such, an NFC-enabled CTA needs to do three things:
Let people know a product IS interactive
Let them know WHERE it is interactive
Give them a REASON to interact
---
Untapped potential of NFC technology
The multitude of stakeholders – be it a payments provider or marketing company – around NFC means there has been very little consistency around the use of the technology, with everyone having a different interpretation of what makes a good CTA.
A few consolidated efforts have been made in the past to try and standardise the messaging around NFC technology, most notably by NFC Forum. But there has been little uptake, so each stakeholder brings their own unique ideas on language and design about what a NFC-enabled CTA should be.
Thyngs seeks to address this by creating a recognisable point of interaction, or CTA, for consumers, so they know an item is interactive, where and how to interact, and why it may be of benefit to them.
Here are the three aspects that Thyngs believe are vital to boosting the use of NFC.
1. Consistency in application and messaging
"The key to create an effective call to action is consistency," says Christian Duerden, Head of Experience at Thyngs. "Create a frame or familiar logo that is instantly recognisable to consumers, like the highly-successful Contactless payments logo."
Thyngs has one simple NFC technology logo that encourages users to tap and interact, which can be used across multiple products and services, such as charity donation tins.
2. Simplicity is key
"Once you've established a particular point is interactive, the next important thing to do is give clear instructions on how to use it," adds Christian. A simple infographic can inform users of both iPhone and Android smartphones how to tap and access content.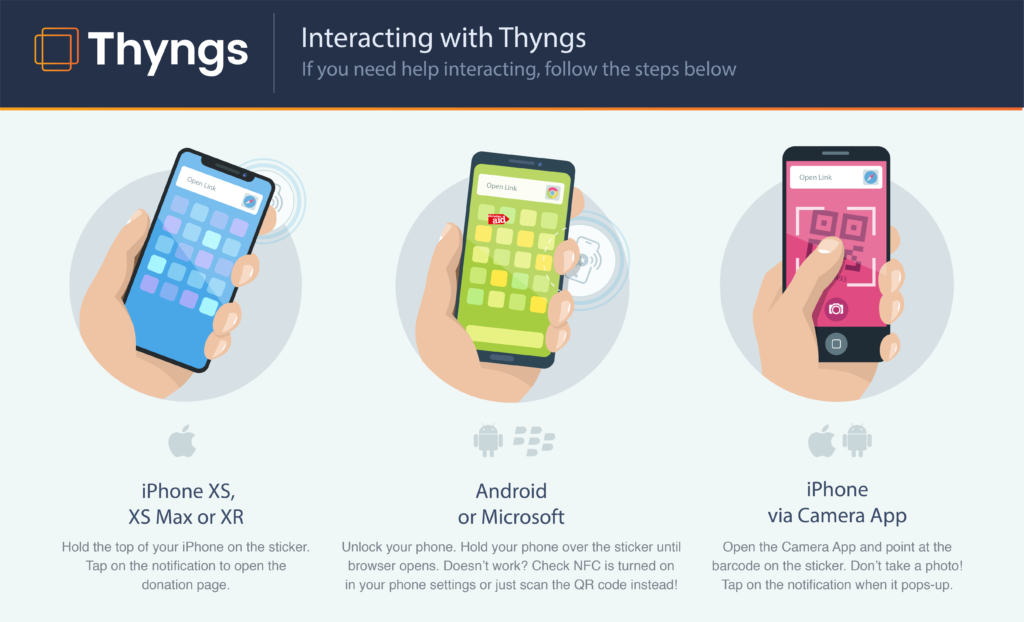 3. Explain if necessary
As with any new technology, it may be necessary to help users on their first journey. "Once a person knows how easy it is to tap and go with NFC technology, they're more likely to use it again," says Christian.
Thyngs can help by providing support materials for organisers, clients and fundraisers to highlight best practice and greatly increase uptake.
4. Make sure everyone can use it
NFC technology is increasingly ubiquitous but it is also important to acknowledge that not everyone has the latest smartphones. "Cater for every mobile by also including other ways of accessing any interactive content," advises Christian.
Thyngs provides scannable a QR code and a short URL link alongside all its NFC-enabled touchpoints, meaning anyone with access to the interact can access them.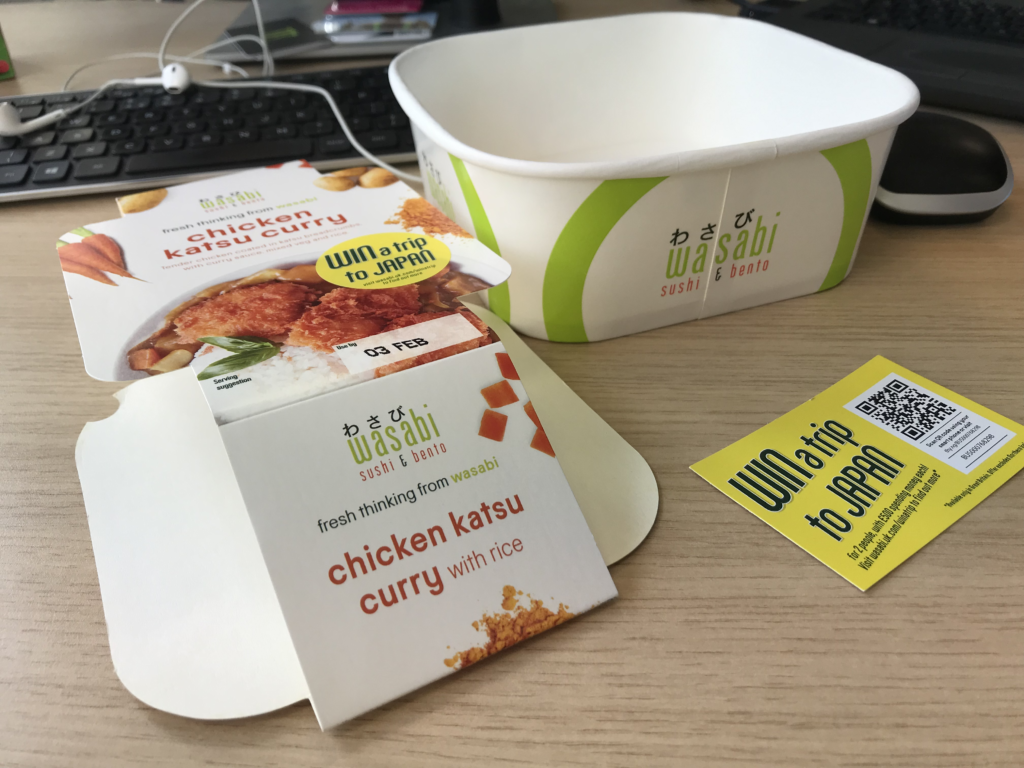 Conclusion
Businesses and retailers can use NFC technology to create powerful multi-channel experiences for their clients and customers. But to realise its full potential, providers need to work together on producing easily-recognisable standards in design, call to action and terminology to create familiarity and give consumers an incentive to use it.